Hello everyone, today I have created these very beautiful quilled earrings for inspiration by using the 5mm blossom theme pack from CraftGully.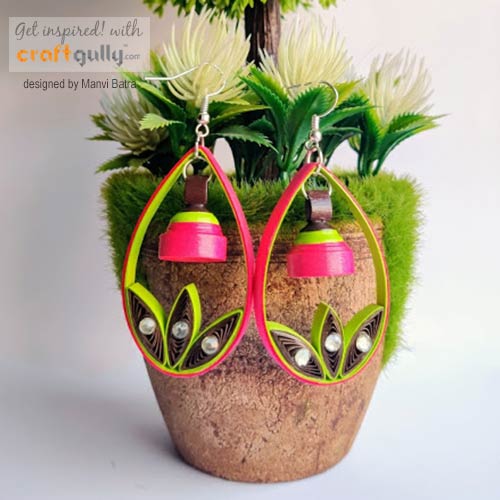 The tones of this pack are very subtle and attractive.
These earrings are amazing and can go really well with Indian as well as indo - western outfits.
The little jhumki inside jazz up the whole look of these earrings and make it look more beautiful.
I never thought that green with pink combination will look this amazing. Thanks to CraftGully paper strip packs that i get to experiment with unusual color combinations.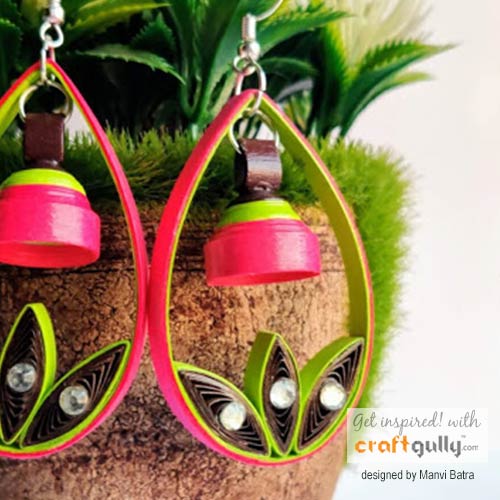 Coming back to the earrings, First, I created a teardrop shape by using the circular border buddy and giving it a teardrop shape. Then I added 3 marquise shaped leaves at the bottom and then to complete it I made a little jhumki inside the earrings.
Then, using the silver jump rings and hooks, I put together the different parts of the earring. I also added some embellishments to make it more realistic.
Lastly, I applied a coat of The Perfect Glaze varnish (my favourite product) to make it sturdy and shiny. And ta..daa, the earrings are ready.
I hope you all liked this project.
List of materials used