Decoupage Papers - Great Masters Series #3 - 100gsm - 4 Sheets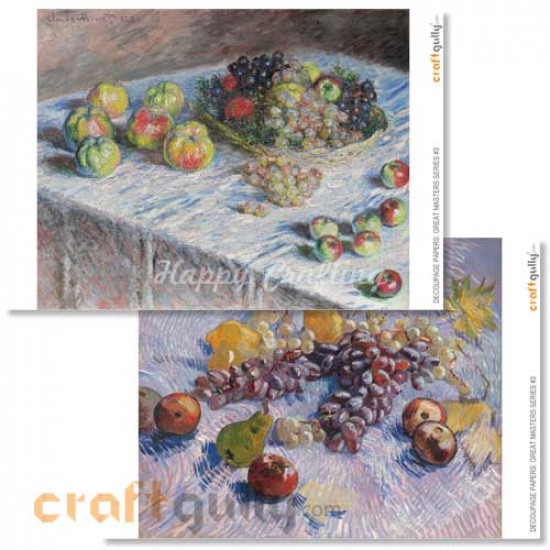 Decoupage Papers - Great Masters Series #3 - 100gsm - 4 Sheets
Cashback: ₹0.99
Availability:

In Stock

Brand: Scrappy Tales
Product Code:

CG-5287
Check delivery at your pincode
Fresh bright exclusive designs and patterns on high quality paper that is ideal for decoupage and other mixed media projects. Use them as a whole or cut up the patterns to create your own unique combination!
Size: Approx A4 ( 210mm x 297mm) but the design will vary on the proportion of each individual painting.
Quantity: 4 sheets in a pack with 2 unique designs (2 sheet of each design)
Paper: 100gsm
Design: Great Masters Series #3
Name of painting: Grapes, Lemons, Pears, and Apples
Dated: 1887
Artist: Vincent van Gogh (Dutch, 1853-1890)
Art Movements: Post-Impressionism
About the Artist: Vincent Willem van Gogh was a Dutch post-impressionist painter who is among the most famous and influential figures in the history of Western art. His works include landscapes, still lifes, portraits and self-portraits, and are characterised by bold colours and dramatic, impulsive and expressive brushwork that contributed to the foundations of modern art. As his work developed he created a new approach to still lifes and local landscapes.
Van Gogh was unsuccessful during his lifetime, and was considered a madman and a failure. He became famous after his suicide, and exists in the public imagination as the quintessential misunderstood genius.
Today, Van Gogh's works are among the world's most expensive paintings, and his legacy is honoured by a museum in his name, the Van Gogh Museum in Amsterdam, which holds the world's largest collection of his paintings and drawings.

Name of painting: Apples and Grapes
Dated: 1880
Artist: Claude Monet (French, 1840-1926)
Art Movements: Impressionism
About the Artist: Oscar-Claude Monet, a French painter, was in almost every sense the founder of French Impressionist painting, the term itself coming from one of his paintings, Impression, soleil levant (Impression, Sunrise). Monet moved away from the clear depiction of forms and linear perspective, prevalent at that time,, and experimented with loose handling, bold color, and strikingly unconventional compositions. The emphasis in his pictures shifted from representing figures to depicting different qualities of light and atmosphere in each scene which gave led to the Impressionism movement.
Today his works are in most major museums across the world

True color/s may vary slightly from what you see on your screen.