Hello everyone,
I am here to talk about issues that I faced with quilling tools have and how CraftGully come to the rescue to solve all those problems in the perfect way.
I had originally put it up the review on my Instagram, and am now sharing it here as well.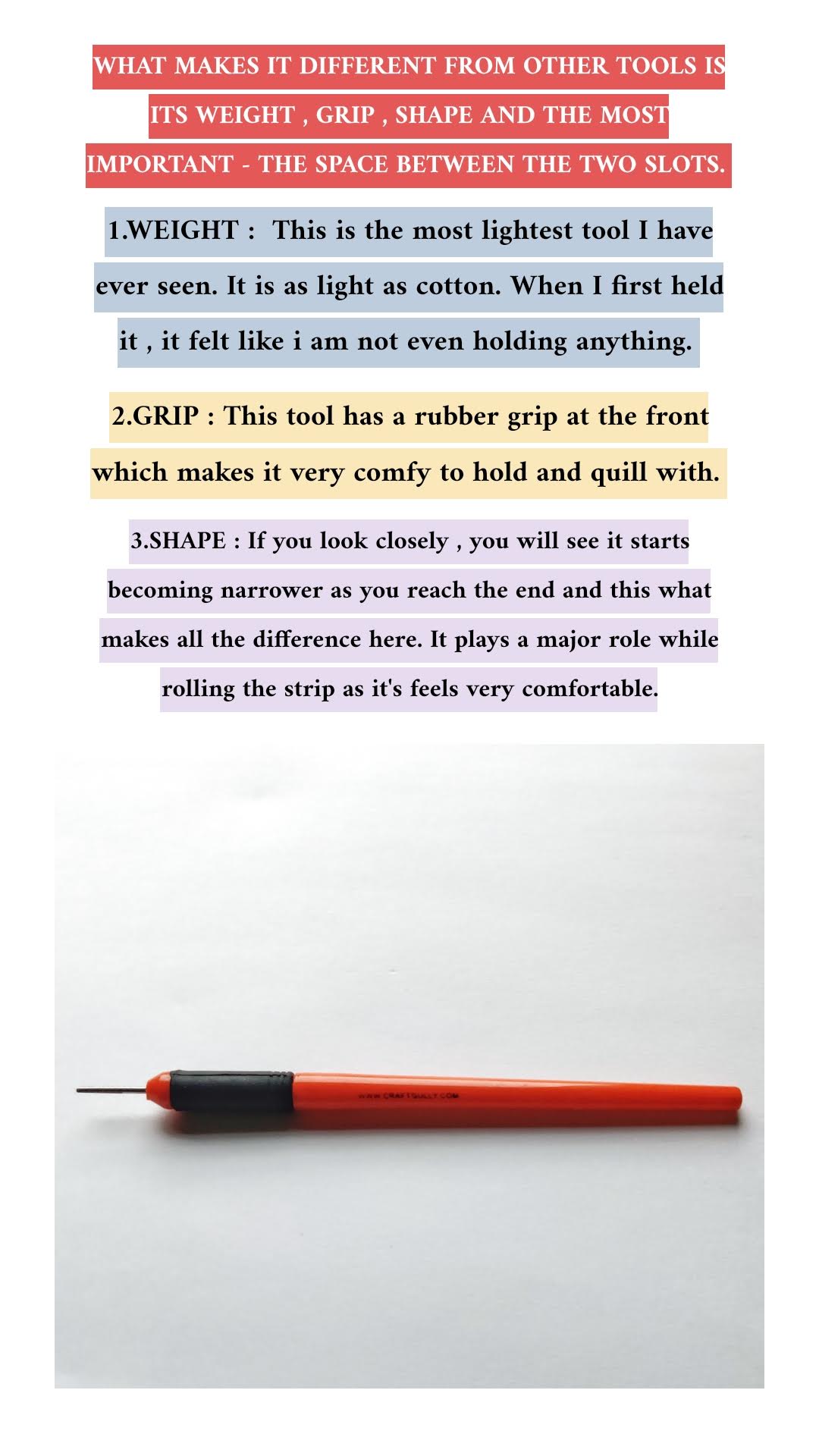 Starting with, I would like to ask you have you ever noticed about the weight of the quilling slotted tool you use? Have you ever felt like it's little heavy when you use it on a daily basis for longer hours?
I think you must have felt that at some point of your quilling journey especially if you are using a metal slotted tool.
Have you ever wished that your slotted tool had a better grip without those ring designs at the front?
Your answer must be yes.
So today, I would like to share with you guys how the CraftGully Quilling Slotted Tool is different than all the other slotted tools available in the market.
I would like to talk about its features here which are - it's weight, grip, shape and the most important: the space between the two slots at the front.
Talking about weight, I would like to say that it's the most lightest tool I have ever come across. It's even lighter than the regular plastic tools available in the market. Trust me, you won't believe when I first held this tool, it felt like I am not even holding anything. It's as light as cotton.
Next comes the grip, if you see this tool has a rubber grip with no extra designing and all which makes it super comfy to quill with. It doesn't leave any marks on your fingers when you roll it.
Further comes it's shape: I have never seen any tool in my 6 plus years of quilling journey which has a shape similar to this CraftGully Quilling Slotted Tool. If you look closely you will notice the shape gets narrower as we move towards the end, this is what makes it unique and super comfortable when you roll with it.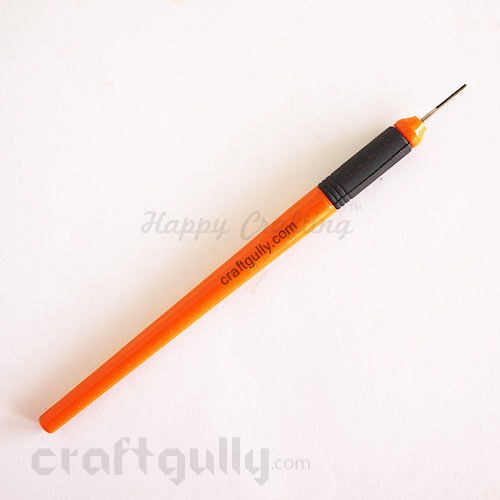 Last and most important feature - the spacing.
Spacing between the slots plays a major role in making your final project a clean and tidy one. If your tool has a lot of space between the slots, your artwork especially your loose coils will look very messy and you don't want that, right?
So, this tool has the tiniest spacing yet the perfect one to insert a strip of paper and make perfect tight and loose coils.
Below you see a comparison slide which I have prepared with a normal plastic tool from the market and the CraftGully Quilling Slotted Tool. Have a look yourself and understand how this makes a big difference.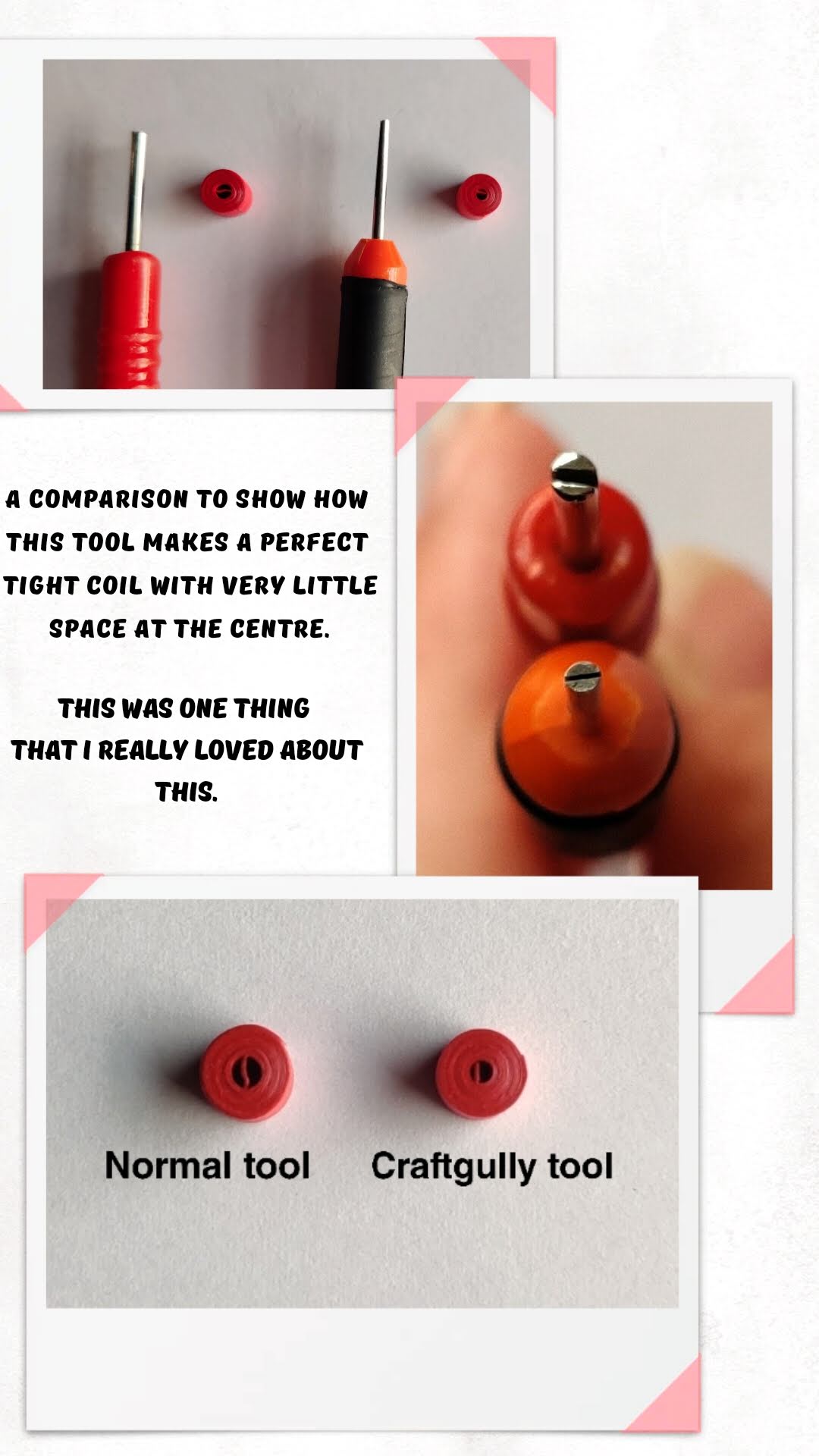 I would also like share something about The Perfect Glaze here.
Firstly, with any varnish that you may have found in your local shops you must have noticed how much that packaging leads to wastage as it has no proper way of pouring according to your desired need.
The Perfect Glaze has a dropper type body which makes it super easy to pour according to your need leading to minimum or no wastage.
Honesty, I had come to terms with the local bottle of varnish but when I came across this dropper type packaging, I never ever want to go back.
The Perfect Glaze also dries super fast and this helps maintain continuity in the project as you don't need to wait for any drying time.
This product is my favourite from the CraftGully store.
I hope you guys find something helpful from this article and try your hands at these amazing products. I have been personally using these products for a long time now and I feel that these are must-haves for every quiller.
Regards
Manvi Batra